Introducing the Actuarial Partners Consulting IFRS 17 Service Bureau. IFRS 17 will be a reality for life as well as general (non-life) insurers, Takaful, reinsurers alike. This is expected to place huge strains on actuarial and finance resources as well as extensive changes to back- end IT and accounting systems. Multinational insurance companies will be able to rely on support from regional office teams for implementation and calculations, but local and especially smaller insurers will be at an acute disadvantage. It is for this reason, Actuarial Partners with the support of Moody's Analytics, has put together our IFRS 17 Service Bureau.
What is an IFRS 17 Service Bureau?
You will provide us with your policy data (on a monthly, quarterly or yearly basis, it's up to you), which we will feed into our actuarial software to calculate the fulfilment cash hows on a cohort level as required by IFRS 17. We will then feed these cash hows as well as accounting data from your accounting system into Moody's Analytics RiskIntegrity™ IFRS 17 Solution. The solution in turn will generate the sub-ledger of accounts which you will need for your financial statements. We will produce the fulfilment cash flows on all the different runs necessary to produce the extensive reporting disclosures.
What can the Actuarial Partners IFRS 17 Service Bureau do?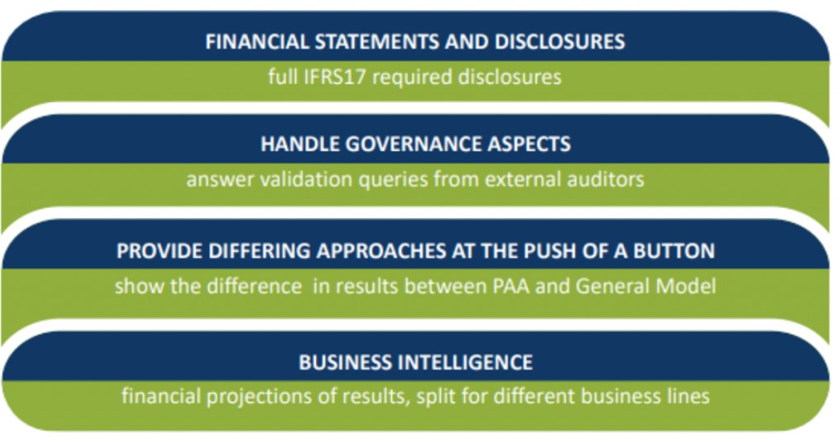 In short, we will take this acute disadvantage and turn it into an advantage, allowing you to focus on your core business activities and feeding you with business intelligence to quickly adjust your business as required in this new world of IFRS 17.
Why choose an IFRS 17 Service Bureau?
Using a service bureau also allows you to build up your actuarial and systems resources over time, should you want to handle IFRS 17 internally. Traditionally, accounting standards were very much prescriptive, meaning very little was left open for interpretation. IFRS 17 standards however are principles based. It will likely be quite some time until IFRS 17 becomes standardized, so it is expected that the methodology used in IFRS 17 will change significantly over the next several years. Thus, companies investing in an in-house system now will likely to require costly revamps (variation order) until the dust settles. A service bureau avoids this need as the software provider will be responsible for any changes in the system resulting from changes in methodology. Over time, you can build your own system at your own pace yourself in-house or by purchasing your own license from Moody's Analytics or you can continue to use the service bureau.
Why choose Moody's Analytics RiskIntegrity™ IFRS 17?
Moody's Analytics has been developing regulatory compliance and accounting solutions for many years and is a well-known and established name globally. This provides an assurance of their commitment for the long term. The IFRS 17 product design has been strongly influenced by previous products, implementation and research and their solution has been awarded the Chartis Risktech Quadrant Category Leader: IFRS 17 Technology Solutions 2019.
I'm interested. What are the next steps?
Some decisions will need to be made before participating our service bureau. Working with your IFRS 17 advisor, a technical accounting paper ('Position Paper') will need to be put together. The purpose of this is to highlight the various decisions which must be made in relation to IFRS 17 such as calculation methodology, definition of cohorts, and contract boundary by product as well as coverage units. This paper will be used by us to ensure the Moody's Analytics Risk Integrity™ IFRS 17 solution is calibrated exactly to your needs. Subsequently or in parallel, a gap analysis should be performed to review the quality of the data and enhancements required to maximize the value of the output from the service bureau. Normally a financial impact analysis will also be performed at this stage to test the effects of various decisions arising from the Position Paper. Once these various decisions are made, we will perform the coding of the actuarial valuation software, working with you to ensure the calculations are correct and implementing the various decisions on assumptions and scenarios into Moody's Analytics Risk Integrity™ IFRS 17. Finally, we will perform testing and parallel runs to ensure no surprises during the actual switch over to IFRS 17.
Frequently asked questions: