The Industrial Revolution is currently moving into its fourth stage: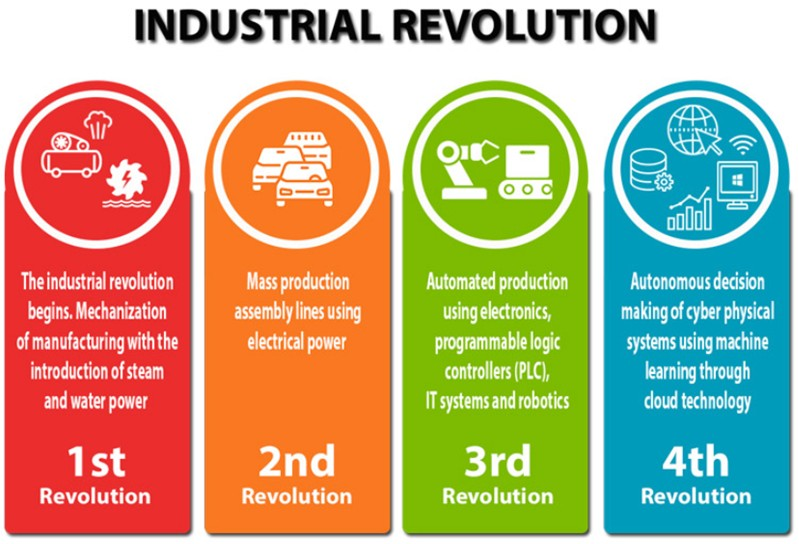 Reference: https://www.studymalaysia.com/education/top-stories/the-fourth- industrial-revolution-ir-4.0-and-what-it-means-for-students-like-you
What is Industrial Revolution 4.0 (IR4.0)?
Industrial Revolution 4.0 is the improving of automation and machinery from the third revolution through smart systems using data and machine learning; the Internet of Things (IoT) and AI. Even though the third revolution already benefits from the use of computers and automation, the fourth revolution allows more advanced automation, for instance where factories can run well without any human assistance. This means that there is less human error. For example, a staff may miss out on checking of a factory's materials supply causing a material shortage which can cause a slowdown on the production of products. Whilst some countries are well on the way to IR4.0, the countries with significant Takaful business have generally been lagging behind. Thus, we start with looking at Takaful and Industrial Revolution 3.0 (IR3.0).
IR3.0 and Takaful Products in Malaysia
Takaful in Malaysia for the most part has followed very traditional methods in sales and servicing. Products are sold mainly through agents and servicing is very much through insurance staff, though automation is implemented where possible. This is changing though. The regulator (BNM) now requires insurers and Takaful operators to sell certain simple products, which are more of a commodity, commission free. The table below is an overview on commission free online takaful products of the Malaysian Takaful operators:
Thus there are differing levels of readiness and willingness to embrace automation. Some other examples of automation and development towards IR4.0 are shown below.
MyCoverage Calculator
There is a useful calculator online namely MyCoverage. This is used to help customers in finding out more about insurance and making decisions on their protection needs. The inputs needed by the platform are only income, expenses, savings, and current coverage. Through MyCoverage, the user can view their monthly available cash how, recommended monthly premium, required coverage, existing coverage, and additional coverage required.
Maybank2u.com
Maybank2u.com is a digital banking platform using a web portal. Users can purchase several types of insurance through this platform with instant rebate. For example, 10% instant rebate will be given if the user purchases motor insurance whether Takaful or conventional via maybank2u.com. Other benefits such as a road tax renewal service can also be done. Furthermore, users can get a 25% instant rebate when buying travel insurance (both Takaful and conventional) via maybank2u.com. Other family Takaful products selling through this platform are Takaful Privilege PA and Takaful PA Plus.
Syarikat Takaful Malaysia
In many cases, even when an insurer or Takaful operator sells products online, these products are designed to be very inexpensive in order to be easily sold. Once the policy is sold, an agent is brought in to upsell. This is not the case with Syarikat Takaful Malaysia (STM). STM has actually sold their agency force and will depend completely on other sources such as online sales.
STM has a web portal which is used by its customers and employees. Beyond the usual information on products in order to assist in sales, a number of products can be purchased directly online. Beyond this, the participant can log in online in order to service their policies. At this stage, there is further marketing as well.
Etiqa Auto Assist App
This is a mobile application where Etiqa's customers can use their GPS locator to find and rescue them when an accident happens. It covers not only roads in Malaysia, but also Singapore, Thailand, and Brunei. The chart below shows the services found in the app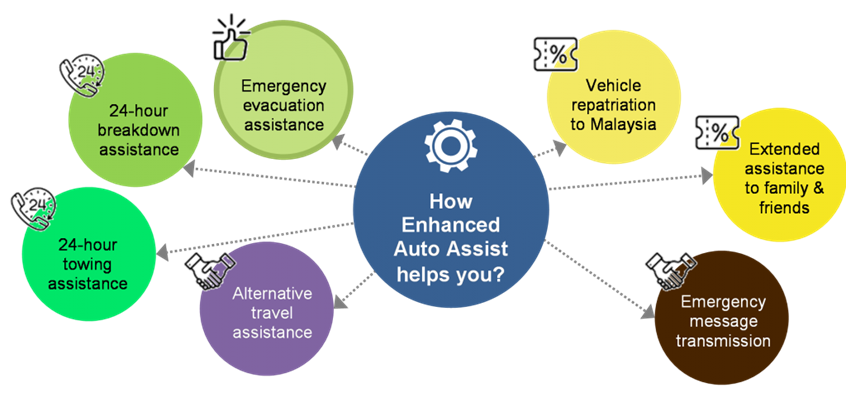 e-Cleva
e-Cleva is also Etiqa, an app which allows users to make fast claims for cracked windscreens, minor accidents and home damages for products. In this regard, the user would purchase car Insurance and Takaful or Houseowner & Householder Takaful. What makes this app interesting is that claims can be made without meeting the adjuster or making a police report.
The users can do this in just 3 steps as follows.
Step 1: Call the hotline number and request for immediate e-Cleva assistance. A link for a video call with Etiqa claim consultant will be sent.
Step 2: The consultant can mark the interest on the damaged car via the video call.
Step 3: Consultant then calculates the compensation amount and for claims less than RM30,000, a payment will be made right away.
Vsure.life (Malaysia)
Vsure.life is a unique app as it sets up the trend for habitual lifestyle protection. The users can choose purchase, claim, and switch protection on and off as needed, wherever and whenever at their fingertips. This stems from a collaboration with AXA Affin Life Malaysia (life) and Allianz (general). This is conventional insurance rather than Takaful, but it shows the trend underway into very specialized products rather than generic protection and savings products.

Conclusion
The world is moving into IR4.0, this is a reality. This means, not only automated selling but also servicing and all other aspects of Takaful operations. We will require more creativity and open-mindedness to use IR4.0 to disrupt our processes and use AI to our advantage.